Whether you're happily designing the bedroom for the first time, or praying that a change in wallpaper will help them sleep better, we have a fantastic selection of bedroom wallpaper ideas that both you and your kids will love.
Wallpaper Ideas for The Bedroom
What are the important themes that bedroom wallpaper ideas should check off? Well, a bedroom needs to maintain a sleepiness. It doesn't want to be too startling or energetic. It also needs to be positive, making your child feel good when they sleep and when they wake up. You can go one better and even make it inspiring or educational! We've come up with a list below.
Why should you create your own wallpaper? Whether you want to add an image you've seen online, or use your own custom drawings and artwork, creating your own wallpaper with Photo Canvas gives you the options of truly personalising the wallpaper. You can even add text to include a special message for your little hero.
Let the Child Design
Here's a great suggestion we've not encountered before. Why not ask your child how they want their bedroom wallpaper. Give them some paints and colouring pens and let them go wild! Simply scan or take a photo of the artwork and add it to our customisable wallpaper. Now they can feel accomplished that they have created the artwork, and will enjoy sleeping and spending more time in the room once it's to their liking.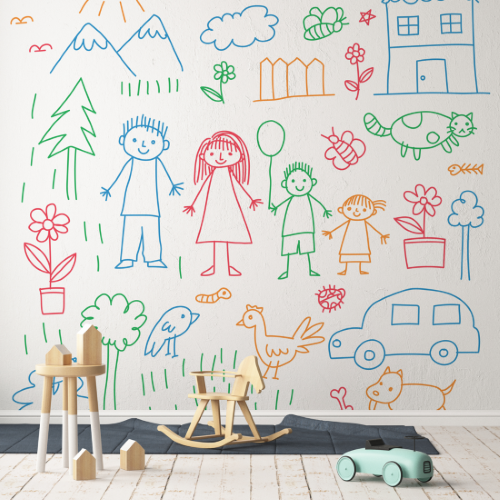 The Star of the Story
Why not upload artwork that includes the child on the paper? If you have an artistic talent, similar to the above you can create your own wallpaper featuring your child. Have your child riding an elephant, or atop of the Eiffel Tower, whatever you choose, by including your child they will feel inspired and excited. Upload your designs to our customisable wallpaper once you are done!
Stargazing
Why not ignite your child's curiosity with astronomy related wallpaper? Have pictures of the planets and introduce your child to the milky way. This serves the purpose of being inspiring and educational. You can download astronomy related images and upload to our customisable wallpaper. Other ideas that are educational can also include dinosaurs, marine life, and even the alphabet!
Get creative and enjoy the benefits! Your kid will happily get ready for bed and may even go on to become an astronaut! For more bedroom wallpaper, wall art and decoration ideas, visit our website. Good luck!